We're Kathy and Leo Notenboom, and we hold occasional Corgi-related gatherings at our home in Woodinville, a suburb of Seattle. This site is where you'll find the latest information.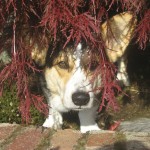 At least one of those gatherings, typically around the end of July (statistically the best weather!) or early August is what we call the "official" Pacific Northwest Corgi Picnic, to benefit CorgiAid. Others are just for fun.
Our events are open to anyone with a Corgi (Pem or Cardi), and guests are typically welcome, as well as the not-a-corgi family members. If you're considering a Corgi it's also a great opportunity to see a wide variety of dogs and personalities, and speak with owners and the occasional breeder in attendance.
The only rule is simple: dogs, adults and children must all be well behaved and "play well with others". The only "un"invites have been for overly aggressive dogs, and for children who failed to honor dog-owners instructions.
IMPORTANT: if you're new, and interested in finding out about local Corgi-related meet-ups the Facebook groups and mailing lists below are great places to start.
I announce our events on:
And of course you can always check back here for the latest and greatest as well.
Thanks,
Leo & Kathy