The 2013 "as official as it gets" Pacific Northwest Corgi Picnic was Saturday, August 10, 2013.
It was our biggest yet, and it was awesome. Well over 125 people and a corresponding number of dogs. In our back yard.
The weather cooperated (though unfortunately road construction did not), and a good time was had by all.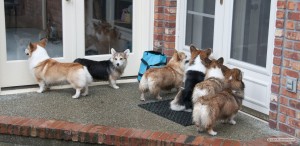 Auction: We raised $1,657 for CorgiAid!
Photos: I'll post links to the various collections as I hear about them.
As always, updates on https://corgwn.com and http://pnwpicnic.com.
(Last year's picnic: 2012.)